Using the electric scooter that folds is not a new idea, because of congestion in and around major cities, many lightweight folding electric scooters out there that can help you through a little traffic jam. 
In recent years, electric scooters garnered an increase in popularity, But when it comes to portable, not all scooters are made equal, and there are some out there that aren't even foldable. Folding electric scooters are becoming the standard feature nowadays. This feature makes the scooter more comfortable to carry, convenient.
But, not all folding electric scooters are identical. The main attraction of folding electric scooters is that they're portable travel solutions.
Whether easy and convenient is an essential basis for folding electric scooters.
In this post, I am going to share with you the best folding electric scooter for adults, the cheap, lightweight and the portable.
Why choose a folding electric scooter a wise choice
Avoid being late
If you find that you are consistently late for work or important meetings, then having a folding electric scooter with you is going to help you for many reasons. These scooters can easily be tucked underneath chairs and slid into small spaces once you are at your desired destinations.
Don't worry about parking.
When you get to your destination by scooter, you can fold your scooter and store it anywhere.
Lightweight and compact
The compact design of a foldable electric scooter is what makes it a perfect last-mile solution.and a convenience of compact,lightweight system that allows you to take your ride with you to the public transport, a store or your office.
Saves a lot of time
Nowadays, time is very precious; any time stuck on the road is a waste.
These folding electric scooters are compact and swift and can easily allow you to short-cut your way through shopping malls, parking lots, and subways, thereby saving you a lot of time.
The Best Folding Adult Electric Scooters You Can Buy Now
1.Hiboy S2 Portable Electric Scooter 
The Hiboy S2 is a reasonably lightweight, compact electric scooter that can manage very well in a city environment. It is a portable electric scooter with a simple folding system. It has a powerful 350W electric brushless hub motor that allows speeds up to 18.6 mph or 30 kpm and a relatively long travel range of up to 18.5 miles under some specific conditions.and It has a portable design, it can easily fit in closets, car trunks, beneath bus or subway seats.
Hiboy s2 electric scooter has a with seat version, with a detachable soft and comfortable seat included. If you think you need an electric scooter with seat version, you can take this version instead.
Pros:
lightweight design          

Folds in 3 steps                         

Fast and long-lasting   

Bluetooth capabilities

With seat (optional)

 

Why We Recommend It — Every aspect of the Hiboy S2 has a been carefully constructed to ensure maximum efficiency and comfort, from the sleek, lightweight design to the large, rear shock absorber, this is a great folding electric scooter, If you were looking for a scooter with the most physical appeal then this will no doubt be the one for you!
The S2 line of Hiboy electric scooters consists of three models, S2 Lite, which is intended for kids, S2 and S2 Pro which is intended for adults.S2 Pro is a high-quality electric scooter. Its compact and foldable design with a relatively lightweight of only 36 lbs allows it to be easily carried when not driving. 
The emphasis, as with the S2 model, is on portability. Only need to folds in 3 Steps, the S2 Pro turns from driving ready to a folded position. All you have to do is fold it with simple folding mechanism, and the hook on the handlebar will attach to the holder on the rear fender, leaving it in a folded position that is suitable for carrying. Unlike the S2 model which has 8-inch wheels, the S2 Pro has 10-inch wheels, and the S2 Pro has even better Battery Life.
Pros:
Portable design

Pro battery life

350W brushless motor

Cruise & Speedcontrol

Newly upgraded 10-inch solid tires



Why We Recommend It — With the easy-to-collapse design, the best app (Bluetooth-accessible app on Android and iOS), and the pro battery life, why not choose S2 Pro?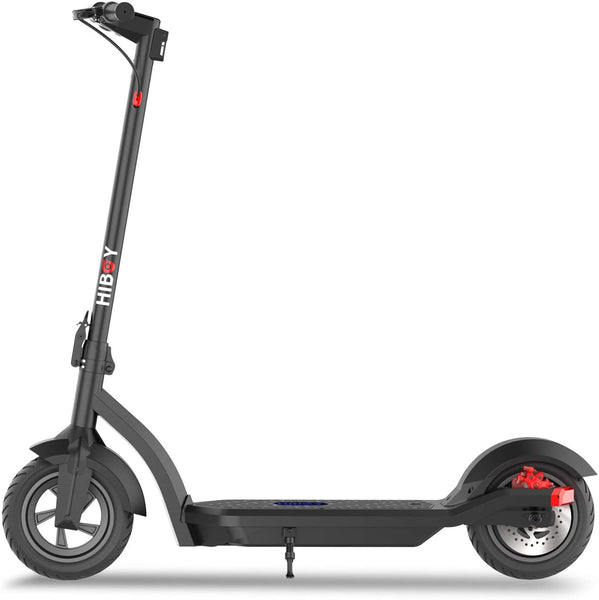 The Hiboy MAX 3 electric scooter is another right choice. Unlike the S2 line, The MAX 3 features a one-step fold design, meaning you can collapse the scooter with swift efficiency.
The MAX 3 equipped with an extra-wide deck of 21.6*5.8 inch which is large enough to fit both feet and stable enough to support a weight up to 220 lbs, and most Hiboy MAX 3 users have it that this model is designed with lots of functional features for transportation and can serve very well both on private paths and city environments, and developed with adults in mind, the Hiboy MAX 3 Electric Scooter comes with accommodative, slip-free foot pedals for extensive feet support. 
Overall, we are very impressed with all the MAX 3 has to offer. This's the best folding electric scooter with adults.
Pros:
Dual rear shock absorbers

Wide larger standing platform

Rear fender with bracket

One-step folding design

17 miles long-range battery


Why We Recommend It — The Hiboy MAX 3 electric scooter is a portable, the wider, slip-repellent pedal is perfectly usable and safe even for individuals who have larger feet.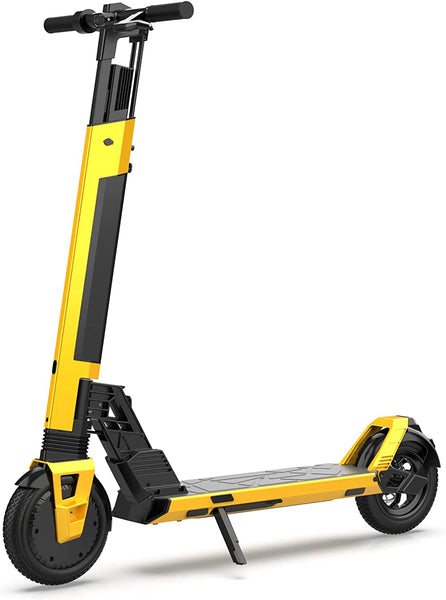 Hiboy released a new adult entry-level electric scooter. This entry-level electric scooter is considered one of the best in its folding scooters category and packed with reliable features. This folding electric scooter is priced under $700 yet boasts long mile range and top speed and strong weight support.
NEX 5 provides excellent convenience for commuting. This foldable electric scooter weight only 40.8lby, the lightweight and easy-to-fold design make it a perfect travel and commuting companion.
NEX 5 features easy throttle control, One Button Functions switch to beginner mode, two taps turn on/off the front and rear lights, and most importantly, it's very cheap! 
Pros:
One button functions

Excellent mile range and top speed

Smartphone connectivity for ios and Android

The extremely compact portable scooter you'll love


Why We Recommend It — This folding scooter is currently one of the most affordable electric scooters, and its performance is not inferior to other electric scooters.
5.Xiaomi Mi folding electric scooter 
Xiaomi is taking the e-scooter market by storm. It is a characteristic of the company to make electronic and electrical devices with good performances. One of them is this portable and foldable electric scooter Xiaomi Mi.
The Mi electric scooter flip down the folding lever to fold, and the scooter bell catches onto a latch on the rear wheel, the result is a compact and secure folding design that's perfect for stowing Mi Electric Scooter away at home, in the office or the trunk of a car.
Pros:
Anti-slip handle

Made for comfort

Shock-absorbing tires

Ultra-bright headlights

Aerospace-grade aluminium frame



Why We Recommend It — Every aspect of the Xiaomi Mi has been carefully constructed to ensure maximum efficiency and comfort, from the sleek, aerospace-grade aluminium frame, shock-absorbing tires.
6.Razor E Prime Lightweight Adult Electric Scooter
The Razor E Prime electric scooter is another right choice. It has a reliable fast-charging battery, one that will let you drive up to 7.5miles. Expect to spend about 3.5 hours recharging the battery.
The battery lasts for a decent amount of time. You can recharge overnight, and you might be able, depending on your office and its policy, to charge at work. But it's cons is not as fast as other electric scooters, you need to recharge after 35 minutes of riding.
Pros:
Easy to manoeuvre

Slim and portable

Beautiful design

Folding electric scooter



Why We Recommend It — This is an excellent product from Razor. It's handy and can be easily carried on shoulders with its shoulder straps.
7.Gotrax GXL Lightweight Electric Scooter 

One of the best folding electric scooters for adults and kids is from GXL. It uses a 250w brushless dc motor that propels it at a maximum speed of 15.5 mph.
This GXL scooter has a sleek design with an urban look. It is not that heavy, but stepping board is just 6 inches wide which may be unfitting to both feet at the same time. It does not have a suspension or a shock absorber so it may be disturbing in rough terrain, but on flat roads, it's very suitable.
Pros:
Affordable

Very lightweight

Fast-fold and release system

Compact for portability and storage



Why We Recommend It — This GXL scooter is an excellent choice for portability.
Final Thoughts
Folding electric scooters are only growing in popularity, no matter what brand of scooter you choose, remember, you must always wear a helmet  when riding an electric scooter. These scooters move fast and are potentially very dangerous. Protect your head and still be considerate of other people near you.