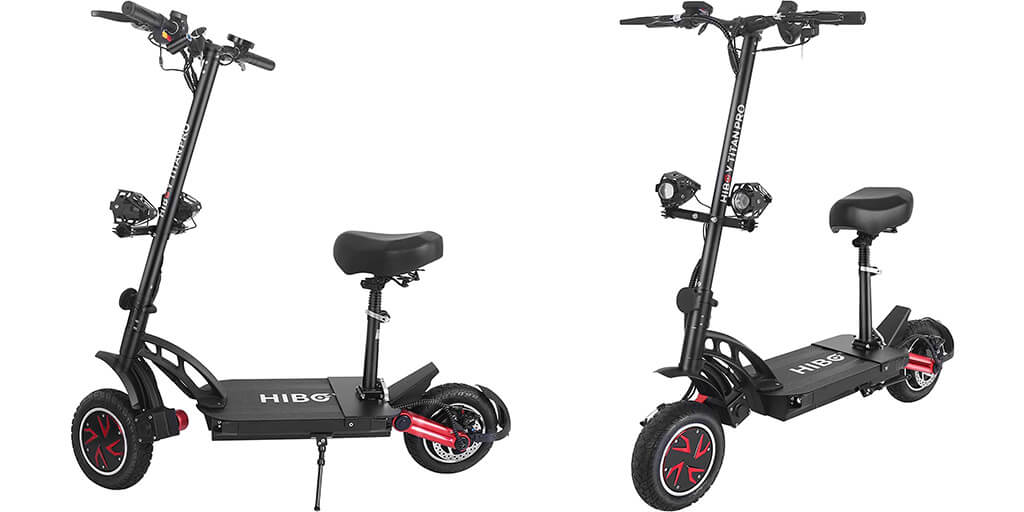 Whether commuting daily or taking long excursions or trips, you want the best electric scooter with a seat. An electric scooter is a type of stand-up scooter that is powered by a small electric hub motor. As America looks for ways to reduce its carbon footprint, electric scooter have become a popular mode of transportation whether they are entry level or premium. Since more people are using scooters for their commute, a seat is a necessary addition. So, what are the best electric scooters with a seat?


6 Best Electric Scooters with Seat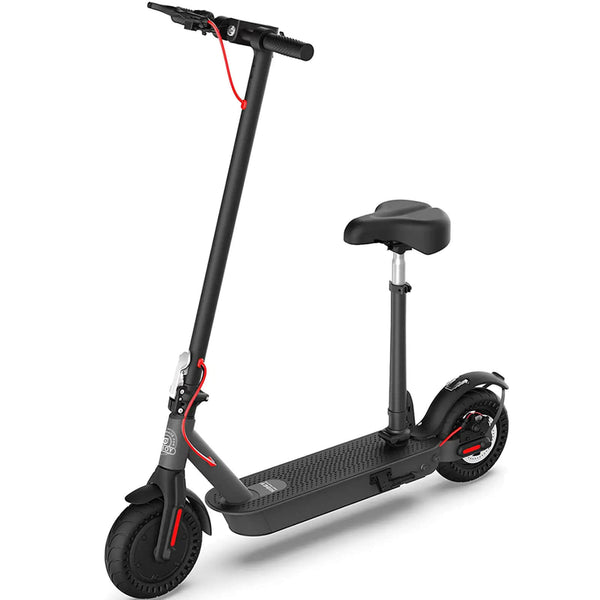 The Hiboy S2 pro electric scooter is a great option whether you are a daily commuter or an adventure enthusiast. It is one fastest electric scooter models with the convenience of high power, long range, and portability.

Features:

500W Motor Brushless Motor: On days when everything seems to slow you down, Hiboy S2 can get you there fast with its powerful electric, brushless motor with speeds up to 19 mph.
Maximum Long-Range Distance: The regenerative battery is fully functional for up to 25 miles on a charge.
Customized Speed and Cruise Control: Cruise Control takes only three-click to control and activate.
High-Quality Lighting: Safety is important in all forms of transportation, especially at night. The S2 Pro has a brilliant lights system that includes the front, great, and side.
Rear Dual Shock Absorber: The S2 Pro shock is made of alloy spring steel that offers a comfortable and smooth ride.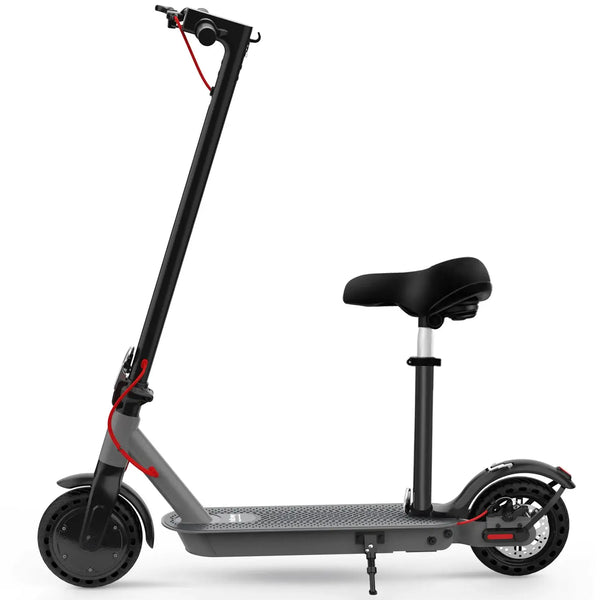 Do you want to get there fast without feeling every crack and bump in the road? Then, the S2 is right for you. The S2 has a max speed is 18 mph and a 17-mile range. The 8.5-inch wheels can get you there comfortably without tiring you out. It is foldable, which makes it easy to store and carry.

Other Features:

Lights System: The S2 offer a safe ride with taillights, headlights, and sidelights
Powerful Battery Pack: The 7.5 Ah Battery Pack battery can recharge in 5 hours.
Optional Seat The S2 scooter offers an optional seat that can make the ride smooth, and comfortable and can limit fatigue.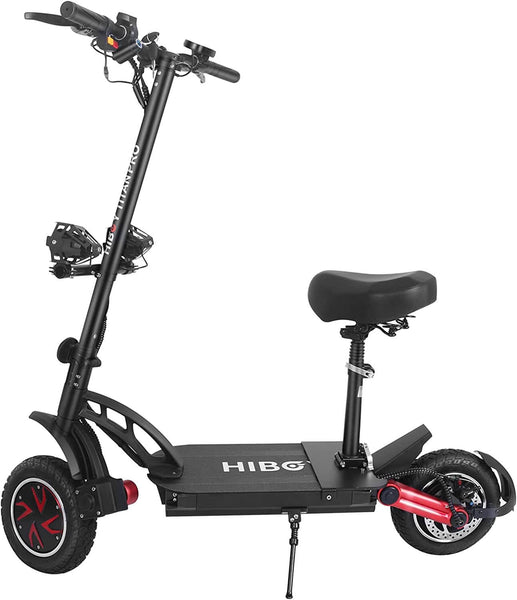 If you are looking for a giant beast created for off-roading, then Titan Pro is for you. The Titan Pro features a dual 2400W brushless DC motor capable of speeds up to 32 mph. This bike is suitable for riders who are off-road enthusiasts or ones who carry heavy loads. The Titan has excellent climbing power for those living in a hillier environment.

Other Features:

Max Distance: The Titan Pro can get you there and back with an unbelievable range of 40 Miles.
Dual Suspension: This Scooter is an ideal choice for heavy riders with a maximum Load of up to 286 lbs. The suspension system gives riders a comfortable and smooth ride with added resistance on the landing.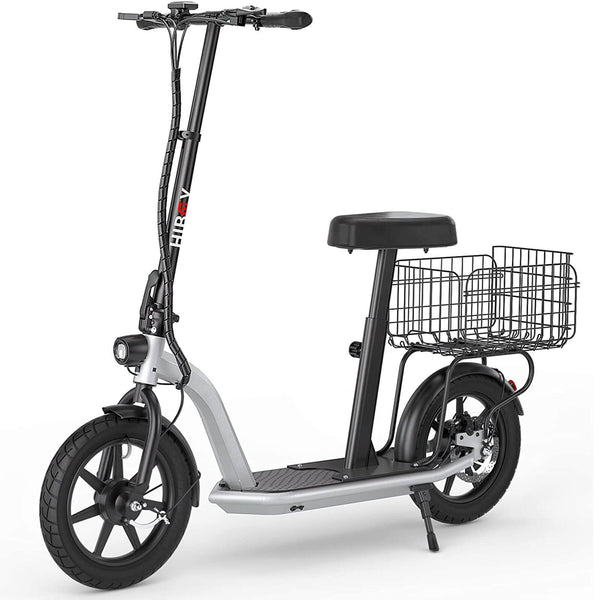 Whether you are carrying groceries or other odds and ends, the Ecom 14 has the features you need, from a height-adjustable to a detachable seat to a removable basket. The Ecom 14 has a high performance 450W motor capable of 22 mph top speed and its big 14-inch wheels make it easy to handle hills of 15 degrees.

Other Features:

Basket Cargo Carrier:You can carry your books, bags, or grocery in the detachable baskets. The basket can be folded up, when not in when you do not need it.
Comfortable Seat: The Ecom 14 has a soft padded seat with plenty of foot room making your ride smooth.
Power Battery: The 10Ah lithium-ion battery has a 5-6 hours charging time with a 31 Miles Max Range.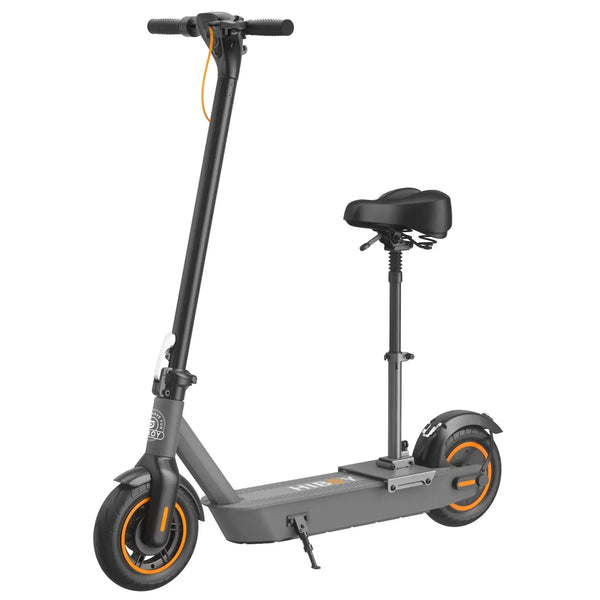 S2 Max is an upgrade of the S2 Pro and ranks among the best long-range commuter scooters. It is designed for long-distance riders who live in and around cities and suburbs.

Other Features:

Three Riding Modes: Sports, Standard, and Eco modes can be accessed by the LED dashboard.
Powerful Battery Pack: The 48V 11.6Ah battery can recharge in 6 hours.
Dual Brake System: The regenerative brake and dual brake system can create power recycling that can reach up to 40 miles.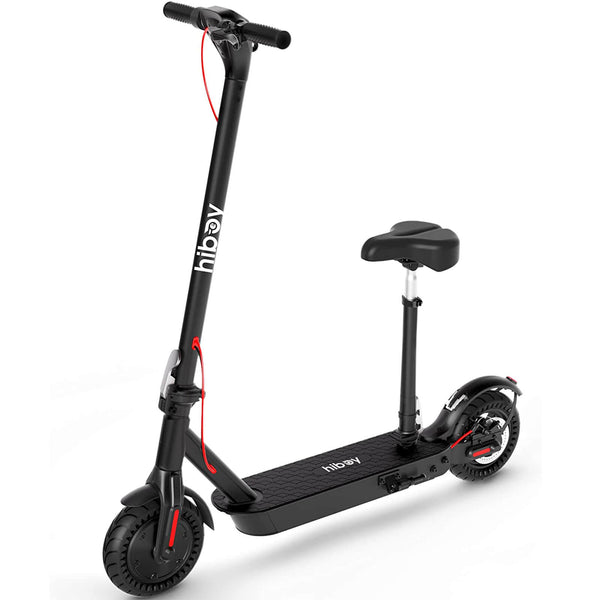 If you like high-tech, the KS4 Pro has it. With a big, smart display telling you your speed, Blue tooth security App, battery status, cruise control, and more, it is easy to switch between functions. KS4 Pro comes with a 500W motor, a high-capacity battery, and a 25-mile range per charge, making it ideal for city commuting.

Other Features:

Powerful Battery: The 36V 11.6AH battery has 5-6 hours of charging time with a 31 Miles Max Range.
Foldable and Portable SystemThe KS4 is a foldable scooter that can be carried with ease. The stylish design can be stored for last-mile riding.